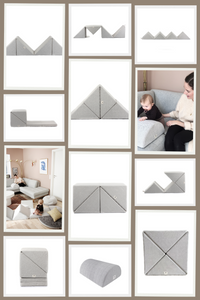 Let your kids' imaginations soar with Happy Play! Our full collection of foam furniture and toys will turn playtime into an adventure like never before. With vibrant colors and fun shapes, they'll be creating and exploring like never before! It's time to get Happy Play-ing!
CE 3+
Size: 
MOUNTAIN: Folded: H 50 x D 50 x W 45 cm., Fully unfolded: 200 x 45 cm.
TRIANGLE: Folded: H 45 x D 45 x W 35 cm., Fully unfolded: 140 x 45 cm.
MOON: H 17,5  x L 45 x W 35 cm.
Version: 3. version
Quality: Cover: 100% organic cotton – Filling: Certified foam without harmful chemicals
Washing instructions for cover: Machine wash by 30 degrees – Must dry lying – Do not tumble dry – Do not bleach – Do not iron – Do not dry clean – Wash with similar colours – Max shrinkage up to 5 %.
____________________________________
Our series of multifunctional foam-furniture, Happy Play, is designed to save space in a small-living lifestyle. They contain countless features such as play and tumble tools for children. Even for moments of relaxation, the Pine Cone foam-furniture is suitable for the whole family. They have different sizes, shapes and functions that support the smaller child's motor development. The multifunctionality of the foam furniture is designed as a transformable indoor playground where the only limit is the imagination. In collapsed condition, the foam-furniture easily incorporates into the home's daily decor and the cover is of course removable for washing in the washing machine at 30 degrees C.
All textiles are in the best organic qualities, and the foam used in our multi-functional foam furniture is OEKO-TEX (without harmful chemistry). At Pine Cone we do not compromise on quality. All our prints and products are designed by our own design team and our skilled suppliers in India and Europe manufacture all products under controlled and fair conditions. We are in daily contact with our suppliers, and we visit them several times a year to always be one-step ahead, and to make sure that our products meet our requirements for quality - only the best can pass our quality control.
It is important to be aware of the foam furnitures many functions such as tilt, slide, fold, balance, etc., and that the furniture is not slip-proof on a smooth surface. Therefore, always assess whether the child is ready to use the foam furniture and its functions. Children under the age of 3 should always be supervised when playing with Happy Play.
Can contain excess color, so always wash upholstery at max. 30 degrees before use and always remember to close the zippers before washing. Since the cover is made of cotton, which is a natural fiber, it should be expected that the cover will contract after washing. However, it is important that the cover sits tightly around the foam as cotton expands slightly with use. The foam furniture is not suitable for outdoor use. Keep away from all heat sources.