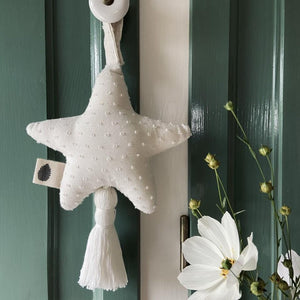 Our sweet Ellie Music Mobile is so nice for the crib or playpen. The Music Mobile is shaped like a star and by a single pull in the tassel the finest melody starts; Brahms Lullaby.
Quality: Fabric Organic Cotton, Fill 100% polyester without harmful chemicals

Dimensions: 14 x 24 cm. (measure without tassel)

Washing instructions: Do not wash - Do not tumble dry - Do not iron - Do not clean - Do not bleach - Wipe with a damp cloth

Follow the recommended washing instructions.