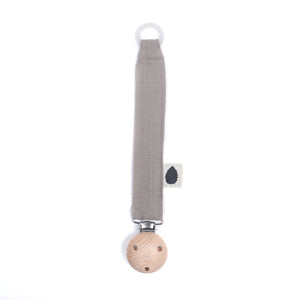 This lovely pacifier clip in a beautiful nature color. With a pacifier clip you always know where to find the baby's pacifier.

Size: 2,50 x 16 cm.

Quality: Fabric: 100% Organic cotton. Rubber ring: 100% Rubber. Clip: 100% Wood with nickel-free metal clip.

Washing instructions: Wipe with a damp cloth - Do not tumble dry - Do not iron - Do not cleanse - Do not bleach - Always follow the recommended washing instructions.

The pacifier clip complies with all safety requirements in Danish / European legislation "DS / EN 12586 + A1". The pacifier clip must not be used as a toy, it must always be used under supervision and must not sit on the child's clothing when the child is asleep. Check the pacifier clip regularly.